How important is it to have creative control over your music? For Japanese-American singer, producer and engineer Tina Johnson, AKA Shima, it's worth giving up a promising pop career and starting again from scratch. These days, Shima owns every stage in the creation of her shimmering contemporary synth-pop releases; from writing and recording, to producing, mixing and mastering. But this wasn't always the case – at age 14, she was scouted by the Japanese entertainment conglomerate Avex when they sent a representative to her international school in Tokyo to hunt for bilingual talent for a new girl group project. This sort of opportunity might seem like a golden ticket to a teen with aspirations of pop stardom, but for Shima, it was just the first step in carving out a path towards complete creative autonomy.
"I wasn't seeking it out," explains Johnson from her home studio in Los Angeles. "For the first few years, I was in this training program where I just got singing and dancing lessons every weekend. I didn't even really know at that point that the end goal was to put me in a girl group."
When she turned 16, she was placed in FAKY – a five-piece group that became her full time job, with 30-hour work weeks on top of all of the regular classes and homework expected of a high school student. The workload was tough, and she quickly had to learn how to manage her stress levels. In fact, aside from the technical singing and dancing abilities she gained from her training, she maintains that the main lessons she took away from her time in the group were about discipline and work ethic. "Simple things," she says, "like showing up ten minutes early to everything. Dressing appropriately at business meetings, always being presentable and professional and on time."
Although there are lessons that she's grateful for, the world of manufactured pop can be a thorny environment for a young performer with a blossoming interest in writing her own music. Privately, she was already making beats on her laptop, inspired by artists like Flying Lotus and Crystal Castles, but "obviously," she says, as far as FAKY's music went, she "didn't have any input on the beat or the production or anything."
"Typically, for most of these J-Pop or K-Pop groups, unless you're BTS-level big, you're not in charge of anything creatively," says Johnson. She began to feel frustrated by the lack of influence she had on the group's output, and the gap between her work with FAKY and the independent music practice she was cultivating felt too wide to bridge from where she stood at the time. "I didn't take myself seriously, and I didn't show anybody or tell anybody about it because honestly, at that point I thought they would just laugh at me."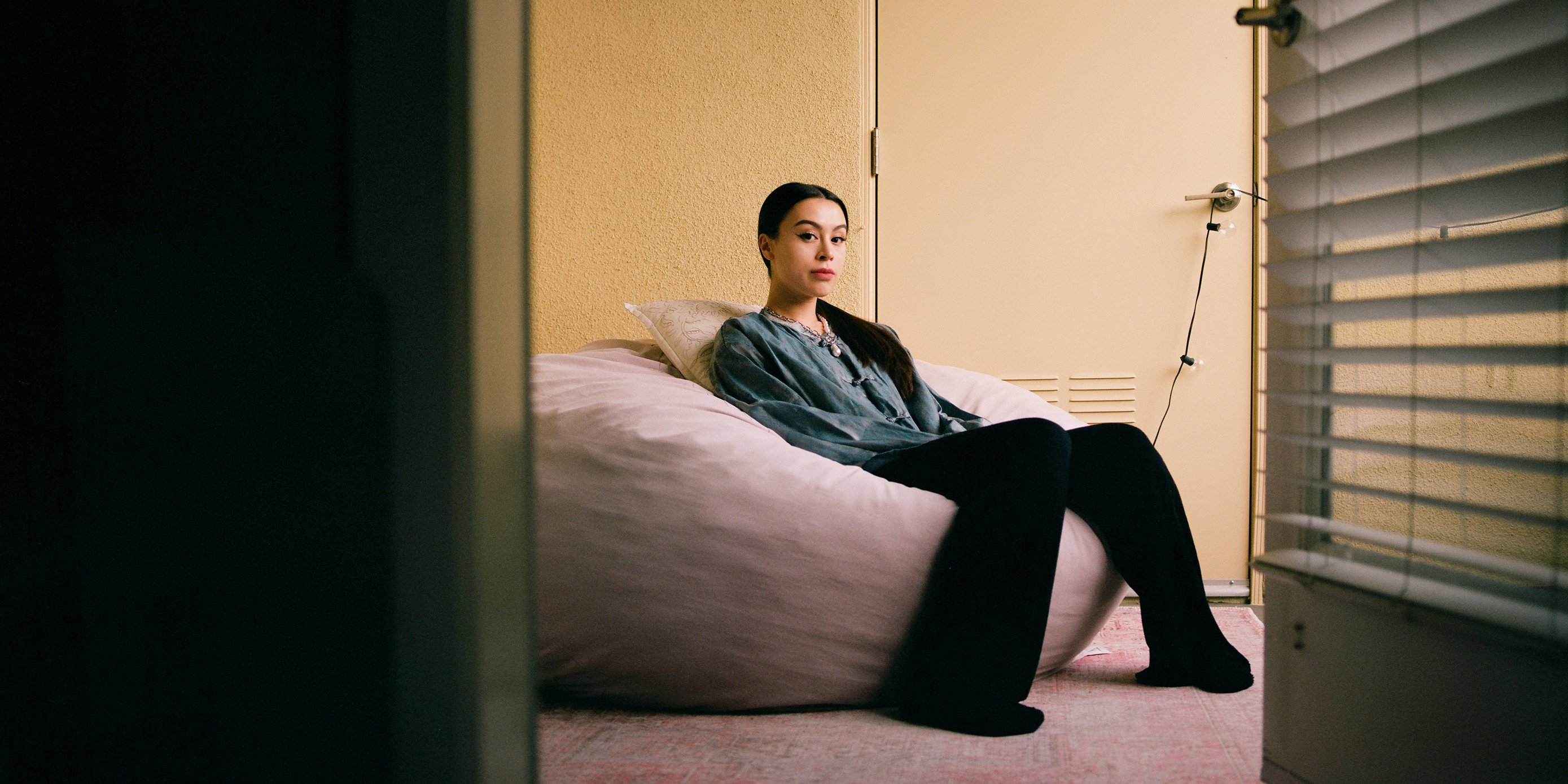 Switching lanes
As college application season approached, Johnson decided that if she was going to stay in music, she'd do it on her own terms. This meant leaving Avex and FAKY behind, and moving to the US to study music engineering at the University of Miami. This course had classes on programming, physics, electronics and circuit theory, and she admits it was a bit deeper in some areas than she was originally curious about. Rather than learning how to make music, she had suddenly committed to learning how to develop the tools that music makers use. "At first I was like, 'Why do we have to learn this? I just want to be a producer. I don't want to be a software developer – or, like, a mechanic.'"
But the more she learned, the more she started to enjoy working under the hood. "I have the kind of personality where if something looks challenging, I want to do it," she explains. Plus, the stability and starting salaries of a programming career were alluring, too. In her final year of college, she landed an internship in the machine learning department at music creation platform Splice. Then, when she graduated, she took on a 9-to-5 job as a developer at Output, a company that specializes in software instruments.
Johnson's music-making continued quietly in the background as she settled into her new career. Until, for the second time in less than a decade, she was discovered out of the blue by someone who wanted to manage her as an artist. This time it came about through some music she'd self-released on Spotify – a result that she says was a welcome surprise, considering her tracks had fewer than a thousand plays at the time.
"He said he thought I could be a full-time artist, and I had been wanting to hear something like that about the music that I made and released myself. That was enough for me to decide to quit my software job and do music full-time."
Going DIY
Starting over again with a more DIY approach brought plenty of new challenges for Johnson to get stuck into. Her new management was considerably more hands-off than what she had experienced at Avex. "It was going from a full corporate machine with a 30-person team, a whole PR team, a whole marketing team and five managers to just me in my bedroom with my laptop and I'm literally doing everything myself." Soon, on top of writing, recording, producing, mixing and mastering her own music, she was learning Photoshop, Illustrator and Premiere Pro. She designed her own logo, found people to make her cover art and decided her own release dates: "I had full autonomy over everything." 
This period of creative freedom also helped to sharpen her musical aesthetic and carve out her own sound from a wide set of influences. "When I first started producing, I didn't really know what genre or what style I wanted to end up making my home. So I was doing everything. Every time I started a new project, it would be completely blank. But now that I've experimented with all sorts of different genres, from pop, to hip hop to house to bass music, I'm starting to hone in at this point."
This is not a love song
Shima's music is fun, upbeat and colorful, and her releases radiate with the confidence of an artist who has been swallowed by the ruthless corporate world and somehow made it out alive. Thematically, there's just one rule that she follows when she's writing music: no songs about love, romance or breakups.
"I just feel like that is what 99.9% of songs are," she laments. "I feel like the world has enough love songs and breakup songs. So I made that a boundary for myself, but it's actually quite difficult writing music that isn't a love song or a breakup song. What does that leave? A lot of hip hop and rap songs, they're very political. About social change or social justice. And then there's also songs about friendship or motivation. This sounds really cheesy, but I do try to make it meaningful or helpful to people in some way."
To do this effectively, she has to make sure that her songs can be understood. Her lyrics flit casually between English and Japanese with an ease that underscores her bilingual upbringing. "I have one parent who basically only speaks Japanese and one parent who basically only speaks English. So much of my identity as a person is about being half Japanese, being simultaneously Japanese and American. If I want my own friends and family to understand my art, I have to do it in both languages."
Content creator
Another area of her work that she makes sure is accessible to both Japanese and English-speaking audiences is her social media content. She admits that at first, she was surprised by how vital these platforms were for her work. "I think a lot of artists are still in denial about how in this day and age, if you want to make it in music, you have to also have social media skills."
Shima's online presence is staunchly anti-gatekeeping. Between release announcements and Push performance clips, she uses her social platforms to share knowledge in the form of digestible and engaging production tips. She makes a point of keeping things as easy to understand as possible. "I want [to reach] younger women who want to get into producing but are maybe intimidated by it. Because that's how I was when I first started producing, I was so intimidated I didn't want to show anybody my work. So I think if I make these little videos to show people and not make it look too intimidating, then I can encourage more young people to get into it."
Of course, it takes a lot of refinement to create the illusion of simplicity. "I'm making it look simple and easy for the sake of the video, but what you don't see is two hours of me staring at an empty project thinking 'I have no idea how to start this,' or typical stuff like death scrolling through samples to find the right snare, precision cueing, hours of mixing and A/Bing…"
Then, taking video editing into account, it can take a whole day to produce a minute-long clip, but she insists it's worth it. Of course there are perks beyond the pure joy that comes from sharing her knowledge – sometimes she's sent free plug-ins and gear to try out ("it's kind of like being an influencer"), but it's also a way for her to prove herself as a serious player in the industry.
"A lot of people think you must have a boyfriend or someone who's actually doing it for you," she says. "I realize that as a producer and especially as a female producer, if people don't literally see you doing it, they're not going to believe that you're doing it. But if I'm physically in front of people, on their phones and computer screens, and they're seeing me doing it, then they have that image of me as a producer."
Another benefit to making these production videos is the incentive to keep her projects neat and tidy. "That's what made me start color coding things and titling my tracks and grouping everything in a way that makes sense," she says. This is standard practice for her now, and it makes it a lot easier to get started on something new that fits with her sound. "I have a lot of custom racks and presets for different synth plugins and stuff like that, so it's a lot faster."
Shima's quick production tips
She urges anyone trying to cultivate their own style to do the same. "Always save Drum Racks, always save your Effect Racks, always save your presets. Even if you're using a stock preset, but you tweak it just a little bit, save it. That's how you start to build your own sound and that's how you become recognizable."
Another important tip, especially for anyone working on their music at home or in less-than-ideal acoustic conditions, is using SoundID by Sonarworks to test your music against a reference track. "I don't have any special hardware, and my room is barely acoustically treated, but with this you can check the frequency response so you can test not just with your ears but visually, too."
For finding inspiration or to get over creative blocks, she says the best thing to do is to remember to listen to other people's music. "Just put on a random playlist or ask your friends what they're listening to at the moment. It'll take you five minutes to get inspired again. Step into someone else's sound and get inspired that way."