Live and Push in the classroom
Lesson Plans
Here is a collection of example lesson plans and other resources from teachers who have successfully integrated Live and Push into their classrooms. These teachers work in a variety of teaching environments, from semester-long dedicated music technology courses to once-a-week community education programs. You are welcome to adapt these resources into your own teaching, or even use them exactly as they are.
Will Kuhn
Will Kuhn has provided five lessons derived from his high school music technology curriculum. This package includes demo Sets, presets, and some examples of previous work done by Will's students.
About Will:
Will Kuhn is the Department Chair and Music Technology instructor at Lebanon High School in Lebanon, Ohio. In 2006, he designed an innovative Music Tech curriculum focused on amateur music production, which as of this writing involves over 350 students annually. His lab-based courses and student projects are regularly featured at regional music education events. His book, Interactive Composition (with VJ Manzo) was published in 2015 by Oxford University Press. Nationally, he gives clinics and workshops on revitalizing school music programs for the 21st century. For more information visit willkuhn.com.
Florian Tippe
About Florian:
Florian has worked as a freelance musician, composer, and sound designer for many years, and is also a fully trained music teacher for secondary schools with considerable experience in using music software for education.
Florian studied classical music at the University of the Arts (UdK) Berlin and jazz at the RWCMD Cardiff. Since 2007, he has used Ableton Live for performances, theatre plays, contemporary dance, sound installations, and film music.
Besides his artistic career, he has never lost his passion for teaching. He regularly conducts computer-based music workshops in schools and trains music teachers in using computer software. He is particularly interested in implementing music software in traditional music courses. This raises special difficulties like working with groups of up to 30 students, time restrictions, classroom management, and meeting the requirements of curricula and teaching standards.
Erin Barra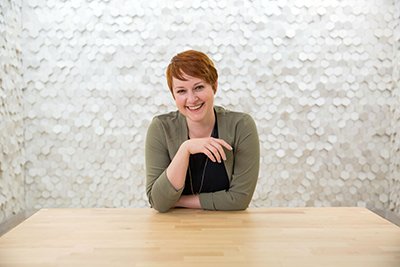 Erin Barra has provided the first three lessons of her Beats by Girlz curriculum, as well as a welcome letter and a collection of videos in which she discusses and demonstrates her teaching concepts.
About Erin: 
Erin is an Associate Professor at The Berklee College of Music, a multi-hyphenate creative and the developer of Beats By Girlz - a music technology eduction curriculum and initiative for women. Most recently featured in Music Tech Magazine, Ableton.com, Billboard, Sonicscoop and Wired, Erin's unique approach to integrating and teaching music technology has made her a sought after and authoritative voice in the global community of music makers. She has released five solo albums and actively works as both a writer and producer under the name MAMMA BARRA.
Please contact Erin at beatsbygirlz@gmail.com if you would like to learn more about licensing the rest of her Beats By Girlz curriculum.