Calling its events "A Night of Ideas and Tracks in the Making", CDR has established itself as an institution for connecting aspiring producers to professionals, in celebration of the technical and creative tips that make an artist unique.
Last night, Pole was present for a special Ableton co-sponsored edition of CDR, for this week's Club Transmediale 2012. If you were unable to make it out, or just want to learn more, we've got some knowledge and photos to share with you here.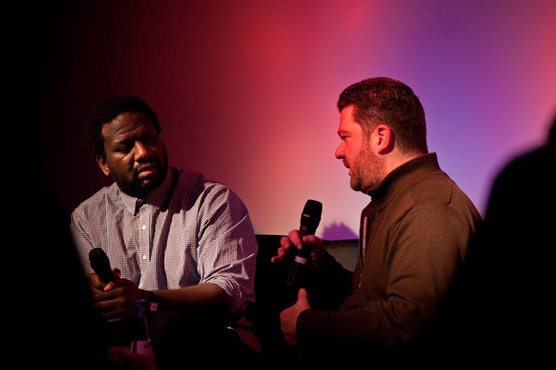 CDR's Tony Nwachukwu interviews Pole

"I see Ableton Live as an addition [to my analog gear], not a replacement," explained Stefan Betke aka Pole of his evolution from a strictly hardware to analog/digital setup. "It lets me do things that I couldn't do before." To illustrate this point, Stefan explained his home recording and live performance setups, which merge Live with hardware and software instruments in ways that allow him to re-route things modularly.
With a background of over 20 years as a musician, performer, mastering engineer and label owner, Stefan shared some of his learnings and experiences to a crowd of aspiring producers. Mistakes and accidents came through as a running theme during his interview, conducted by CDR's Tony Nwachukwu. "Listen to the mistakes," Stefan advised other musicians. "When [a mistake] inspires you, don't ignore it. Take this limitation and make something from it."  
For his latest series of releases, under the name Waldgeschichten ("Forest Stories"), Stefan has worked with a modified analog drum machine. Taking advantage of the unusual timing of the machine, he slaves Live's tempo to it, and then uses Live to record other parts, both analog and digital, to make his tracks. 
Aside from listening to mistakes, Stefan also challenged other musicians to focus on limitations - something that can be harder to do with all the possibilities of computer music production. "If you have Ableton Live, you have millions of possibilities," he said. "Choose a few." Stefan further offered his own suggestion for musicians looking to get a unique sound imprint in a similar style to his work with a broken filter. "Why hasn't anyone ever done a whole record with Warping?" he asked. "If you crank it up or down 100 bpm, it makes its own sound."