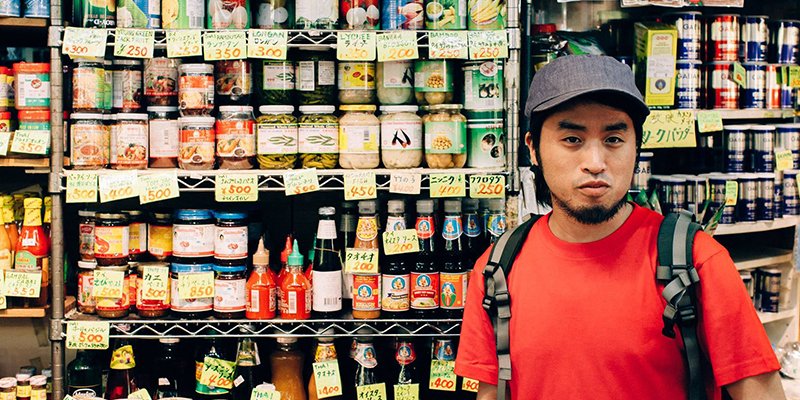 One of the interesting things about dance music is that there is no universal definition of dance music. Of course, there are plenty of releases out there that pretty much everyone would agree are at least intended to function as dance music. But where things get less clear and potentially more interesting is at the peripheries of dance music, where artists put their creativity into subverting established forms by playing with precisely those functional aspects of dance music everyone seems to have agreed on.
One such artist is Foodman, or 食品まつり in Japanese, a Nagoya-based producer who has developed a sound all his own. Whether he's working in forms that superficially resemble footwork, house, techno, pop or ambient, he always sounds like no one else. This stylistic signature has led to a growing profile in recent years, with releases on a widely diverse range of labels in the US, Europe and Foodman's native Japan.
While Foodman tracks are full of details and built on oftentimes starkly contrasting elements, they never feel too dense. This might be due in part to his commitment to working fast and capturing ideas in their raw state – something he picked up from his love of early juke / footwork, dubstep and punk. We caught up with the prolific producer in Tokyo to discuss his process, playing live and the wildly differing reactions his music provokes in listeners.
When you start a new track do you always start in the same way or do you have different ways to begin your work?
I get bored quickly. There are several ways of making music so that I can keep myself fresh. Sometimes I produce with a sampler and at other times I use Ableton. If I get bored of those, I go to the studio and use my iPhone to record drums, ukulele or voices before I edit those sounds. Sometimes I use them as is. For my last album (Ez Minzoku for Orange Milk), I had a concept and made consistent tracks but before that I tended to put various styles in an album like techno, ambient, songs with backing instruments, noise. I wanted to put many things in since my moods are very changeable.
Indeed, Ez Minzoku does seem to have a consistent and homogenous feel to it. What was the concept for that album?
When I heard footwork and juke in 2011, I found them interesting and different to the dance music I had known before. To be honest, it is not so important to me whether it is dance music or not. When I first listened to footwork, I thought it was a bit similar to songs I made when I began making music and toying with sounds. It had something primitive that interested me. I wanted to make an album based on a concept in my own way ever since. Ez Minzoku is considered to be centred around a motif of footwork but it is also themed around my imagination of future Nyabinghi. I was imagining what people in the future playing Nyabinghi will sound like. I also had this idea of a very advanced prehistoric human civilisation that existed about 10,000 years ago with highly developed social organizations.
The sample Pack you have kindly provided is also connected to this idea?
This Pack includes 30 ingredients: a variety of timbres from percussion and samples I recorded, modulated and moulded from different voices. Its theme is an advanced prehistoric human civilisation that perished 100 million years ago, the instruments available around that time and the songs of those who played them.

The combination of sounds you use is quite unusual.
The combination is always what I care about. I dare to try unusual combinations of sounds that will not seem to get along.
Right, that seems to be the conceptual connection to footwork – you hear those unusual combinations there as well. Although it seems to be getting increasingly standardized lately.
There are lots of crude songs, as if they were just based around first instinct. Something about listening to them feels interesting to me. Combining this and that never seems to work on the dance floor but they dare to do it and that is one of the parts that appeal to me. Plus, it works as dance music. There might be some things that have been lost in the process of sophistication though I also have a feeling that the style will evolve in various directions down the line.
So these unusual combinations of samples, is that a way you try to capture this kind of raw state?
I'm not musically trained. I started making music with a sampler I bought, taking in sounds I found. Around that time, I got lost in production, spending 8 or 10 hours a day. I like that state of fun. I produce in the hope that I get that joy myself again and again rather than getting my music heard by somebody. So what I care about most is whether or not I am having fun. That comes first and then I want my music heard by people. I need to make my mind state primitive in this regard. I wouldn't enjoy myself otherwise.
Music technologies, Ableton included, tend to present users with sounds that sound good together because they conform to certain ideas about genres and styles. But in order to find those unusual combinations, you have to use your own criteria. How do you know when a combination of sounds is useful to you?
Hmm, how can I explain this? There is a combination of kicks and bass for instance. It sounds good in that way but I want to replace kicks with snares or swap the traditional roles of sounds. "What will happen if I swap all the roles of kicks, snares and hi-hats?" I am always thinking things like that all the time. Yesterday, I was wondering what placing a kick in a scale and singing over it would sound like. Nobody decides that kicks must be used to make people dance. You can go your own way scaling kicks and singing with it or you could use hi-hats for kicks' role. Whether you use a sample pack or whatever, what I want to demonstrate is making changes in traditional roles of sounds and the way you use them.
Once you find a combination of sounds, how does the shape of the track come about?
I lay out various sounds on grids. After that, I work subconsciously. I like green tea and drink a lot of it at home. Its caffeine makes me high and I make music in that state. Above all, I will keep trying until I reach something I am convinced of.
Is it a process of adding layers until you get to a point where there is enough? Or is it a process of taking things away? Or both?
Both. Sometimes I add too many layers and then take things out of them. At other times there are few sounds at the beginning. "Jazz", for example, is a song in which I wanted to make sparse and I was conscious of space while making it. I want to make sounds feel three dimensional. When I put sounds on grids in a sequencer, it looks like they form a pattern. This sound comes from here and that sound comes from there: when a track sounds like a three dimensional object that feels right to me. Some tracks use many ingredients and others only a few.
For the arrangement, do you work on small sections and copy them and then make variations of the copies? Or do you have one long section and then change that and add something to it?
I do both. For "Jazz", there was a two-minute section where I place sounds on grids. I copied and pasted it and make its variations. With other songs, on the other hand, I make a loop of eight bars and copy and paste it for variations. But it is a bit tedious in cases like "Jazz" since you make fewer repetitions and need to lay out sounds one by one. So I often build variations around a short loop. In Ez Minzoku, there are tracks made with one Electribe and ones with only Ableton as well as tracks made with the combination of the two.

For many music makers, a big problem they have is they don't know where to finish. How do you know when you are finished with a track?
In many cases, I don't want to spend much time on a track so I call it quits if it feels right on a quick listen. Once I think the track is done, I try not to listen back to it. If I did, there would be some part that catches my attention. If I don't, I forget and move on to the next song (laugh). Ears get worn out and how things sound varies depending on your mood and condition. There is no right answer to music. For some people, "Jazz" is not a finished track. I have been told "Is this song still unfinished?"
I think music is intangible, different to other art forms. So despite the same sound, what you hear could be totally different to what others hear. That is how I came to realise that there is no point thinking too much what will be the right answer.
When you play live, is it the same as the studio situation or do you have a different setup or approach?
I do live performance with a slightly different setup. For recent live shows, I use an Electribe and a Mac with Ableton, which I manipulate with a MIDI controller.
Are you recreating tracks that you made in the studio or you released? Or are you improvising and making new tracks in front of people?
I combine both. I play pre-released tracks for the 10% of a live performance. The remaining 90% is tracks I prepare a few days before the show. I leave them 60 or 70% completed and during the performance I add and take out sounds, apply effects and record sounds to play on the go with the Electribe. I turn the tempo up and down. I only use a few pre-released tracks for live shows. When I do, I play them back and just apply a bit of effects on top. I mainly play what I have prepared at home for the show.
You have played a lot in Europe and North America recently. How do you find the different audiences reacting?
It's quite different from place to place. In places with big electronic music scenes like Europe, feedback varies. Sometimes they go crazy while, if they simply come and see my gig, they are like "This is not dance music!" upset about my live performance that confounds their expectation for dance music. In the US, on the other hand, there are the parties by DIY cassette labels. Despite their small operation, most of the audience are producers and seem very attentive.
It's interesting to see the comments on Soundcloud on the track of yours that Good Enuff posted. Some people really liked it but some people were asking "Is this music?"
Right, there were people saying good things and others saying things like "Turn the shit off" (laugh). Boiler Room was kind of similar with feedback: people saying good things and others saying "shit." I realised that people had different opinions about my music. If people who like dance music hear tracks like that, they go like "What the fuck?" I am not negative about it though. Rather, it is interesting to see there are various opinions.
I suppose when an audience has strong opinions both positive and negative, then you are doing something right. It is also interesting how different two of the labels you work with are, Orange Milk is a small scale tape and Bandcamp operation, with a pretty radical DIY aesthetic, while Good Enuff is a sub label of Diplo's Mad Decent outlet and seems to be much more commercially oriented. I can't think of any other artists who have a foot in both camps.
When Good Enuff got in touch, I wondered where they heard music like mine. With music like that track released on Good Enuff, it might upset some people who are familiar with Mad Decent. But it is actually a way that they experiment. It makes sense to me. My music taste is wide and shallow: I listen to pop and experimental music in equal measure. I don't have likes and dislikes in genres. So it is really fun to do something that goes off the scale.
Do you feel like you are part of a group of like-minded producers in Japan?
There are some Japanese labelmates on Orange Milk. Despite releasing music for the same label, what we do is quite different, but most of us consider pop and experimental stuff in equal measure. I've thrown parties in my hometown of Nagoya, where I have like-minded folks. Since I started putting on events 15 years ago, I've run them without picking and choosing genres: folk musicians, noise artists, techno and trance DJs, etc.
Would you say this non-divisive aesthetic is common in Japan? Or unusual? It is quite unusual in Europe and the US, I would say.
Europe has a bigger electronic music scene with more people involved and you can get enough people with a single style. On the other hand, it is often the case in Japan, especially in cities other than Tokyo, that there are less people involved and you end up with a mishmash of different styles when you have a party.

Listen to Foodman on Soundcloud and follow Foodman on Facebook and Instagram.
Bonus Track