Kirk Knight is one of those enviable hip hop multi-talents who can rhyme, produce and make beats all at world class level. He'll be presenting his take on the art of sampling as part of the Loop 2016 program.
Read our interview with Kirk Knight below to learn how he taps into hip hop's sampling tradition while also adapting it to new techniques and technologies.
Brooklyn has a way of forcing residents to mature a bit quicker. The grit, and hustle of the environment often finds its way into the subconscious of its inhabitants – and those talented enough to break through in music tend to have traces of the borough all over their work. Twenty year old MC and producer Kirk Knight is no exception. Best known for his music production for Joey Bada$$, Mick Jenkins, and the Pro Era crew, Knight's sound is clearly rooted in NYC hip hop but adds a modern and refreshing palate to the sample-driven sound. We caught up with Kirk in between tour stops with the Underachievers to discuss music production, live performance, and the creation of his debut album Late Knight Special.
Congratulations on the release of Late Knight Special. This is your first album, right?
Thanks. Yeah, my debut project. You know how people say "Oh well I was rapping before this and I had a little project..." – I didn't have anything. This is the first project I've ever made in my life. Some of the tracks are like two years old but when I got focused to finish the project [it took] a time span of six months. I don't care if I have a project release in 2 years, three years, four years... because when it drops everyone forgets about how much time it took you to make it.
Good point. We have this easy accessibility to put out songs and sometimes people don't take time to put in the effort. But it shows when you release it…
Exactly. At the end of the day everyone's gonna say I took a long time with Late Knight Special, but I needed to experience life to be able to speak upon it. I'm a young dude, [and] there's only so much of the world that I know, you feel me? That's why I wanted to take the time to live life, to have those one night stands, to have those hopeless romantic nights, have those fearful nights. We gotta have those experiences to even talk about them.  
So when it comes time to take those experiences and put them into music, what is your process like?
I begin with the beat first. Sometimes I use hardware, just to get that punch, and then I'll layer that with drums I make in Live or with a plug-in like Battery. Sometimes I just use the Drum rack and EQ with EQ8 and Trash. When using a sample that has low drums, I sometimes take out a lot of the low frequencies, leave the mids, and take out a little bit of the highs, all depending on what kind of sound I'm trying to go to.
Next I work on samples. Sample manipulation is what I love best in Live because I can morph a sample and turn the pitch to something totally different. The beat for "Long Live Steelo" (by Joey Bada$$) has a lot of warping on it.
It gives the sample a type of digital distortion, and gives me more control of the sound design. I feel like once you start warping you have all types of options. It gives you more range of which direction to go in. Maybe it sounds better at 75 BPM, maybe 90. It just gives you a wide range of things to think about when figuring out where to take the beat. I'll also chop something really small, and use warping to stretch the shit out of it so it sounds completely different. I feel like a lot of producers are doing that now.
After samples I start working on the hook because the hook is the topic of the whole song. Once you've got the topic of what your essay is gonna be about, then you can write the essay. In rare cases, sometimes I make the beat in my head and write out the lyrics first, then write the beat to it.
The timing and delay based effects on the album are really wide and clean. How are you achieving this?
Sometimes I use the built in Ableton reverbs and delays but I mostly use Soundtoys. It's about how much feedback you use. I play with feedback and mix output a lot. I use a lot of Feedback but turn down the delay so it's not so ongoing. Then I automate the output down so that by the time the next bar comes around, the sound is gone.
Do you sample from vinyl? Or do you sample from YouTube or from films?
I do all three. I just look for sounds. Films have the fire for drama-filled music. There's a new beat that I made on Nyck Caution and CJ's next project where I sample films. You'll hear it on CJ's track. I wish my vinyl collection was as big as Alchemist's. I remember one time I went to his crib and saw his vinyl collection and realized how serious collecting vinyl is, and that made me want to get into it more.
How do you go about putting these different samples together?
This is where I put everything into Live and layer. One of the things I love about Live is that it can transform the pitches of things and make them work together. Like I can take three different samples and make them work as one. And that's where I'll start layering the drums with the hardware. And sometimes my beats aren't on beat. I'll drop in a two bar loop and it's off. But I'll layer the samples so everything loops on two bars and it works.
How do you keep the samples dynamic when you are using so many sounds?
Distortion makes a lot of things punch. You have to make the kick distort a certain way for it to start pumping. I feel like Mike Dean does this for a lot of Travi$ Scott's new songs. I can hear it.
"Because I'm part of the new generation, I didn't get to grow up with the MPC. But the way they grew up with MPCs, I grew up with Ableton."
Hardware added a lot of color to early hip hop but it sounds like you're able to capture that color with a digital setup.
I use analog and digital together to find a newer sound. For example there's a song with Mick Jenkins and Joey called "Jerome". On that beat I used an MPC1000, SP-404 and Ableton. When I do a drum loop on the MPC and put it into Ableton, it gives me a new sound. If we're making things with 808s and things like that, it's way easier to make them in a DAW. But if we're making boom bap, Mos Def and Biggie type of shit, I'll use the MPC for that feel.
At the end of the day, J Dilla was still using live percussionists along with his MPC. Chuck Strange, who is one of my mentors, uses hardware but puts everything into Ableton. Because I'm part of the new generation, I didn't get to grow up with the MPC. But the way they grew up with MPCs, I grew up with Ableton.
Do you use Push in your setup?
Yeah. I'm still trying to master the Push. But for now I use the "In Key" mode a lot. I'll play a little bass line on that shit or a little key. I can't play the piano but it lets me stay in key even though I can't play. I want to start using Push live on stage.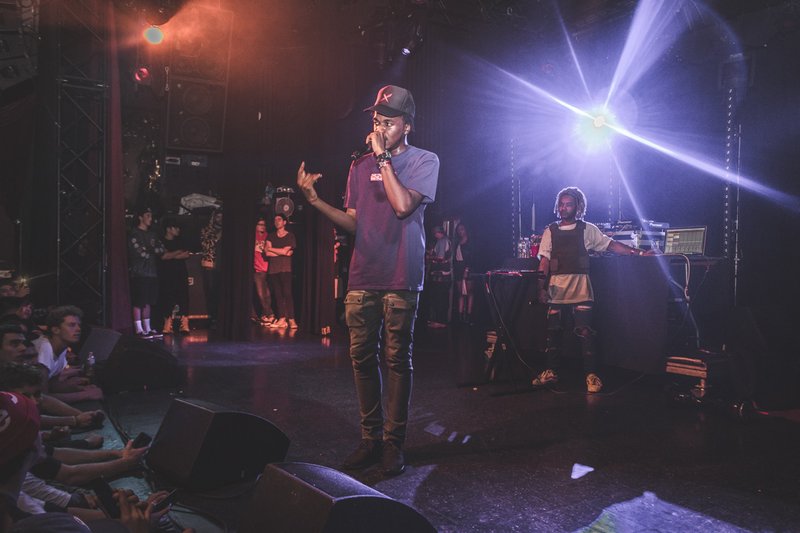 How are you guys setting up the audio for the tour currently?
Powers Pleasant, my DJ and one of the other Pro Era Producers, uses Ableton and an APC 40 for my entire set. He and I both produce in Ableton, so I can tell him to use specific reverbs, or to to do certain things because I understand the DAW with him. All he does is plug his computer into a Rane mixer, and then he places the APC 40 on a stand and uses that during the set. He's not even on his computer.
I'd like to be able to make beats on the fly, on stage. I want to break down all of the songs I produced in front of fans. I feel like it would be interesting to see how I made tracks from Brokeland or Knight Time, or just a simplified version of me making them on the stage. I also want to start effecting my voice with Live's reverbs and sound design tools while I'm performing.
You were into Chemistry in high school. Do you see a correlation in music?
Yes. Chemistry is all about exploring the unknown, and that's what you do in music. If I do these two things will it sound good or bad? I used to know chemistry like the back of my hand, I knew what two substances made a reaction, and with music it's the same thing. I know if I add distortion to this drum, I'll get this reaction.

Kirk Knight's debut album, Late Knight Special, is now available on Pro Era / Cinematic Music Group.
Keep up with Kirk Knight on Facebook and Soundcloud
Photos by OscarDayz