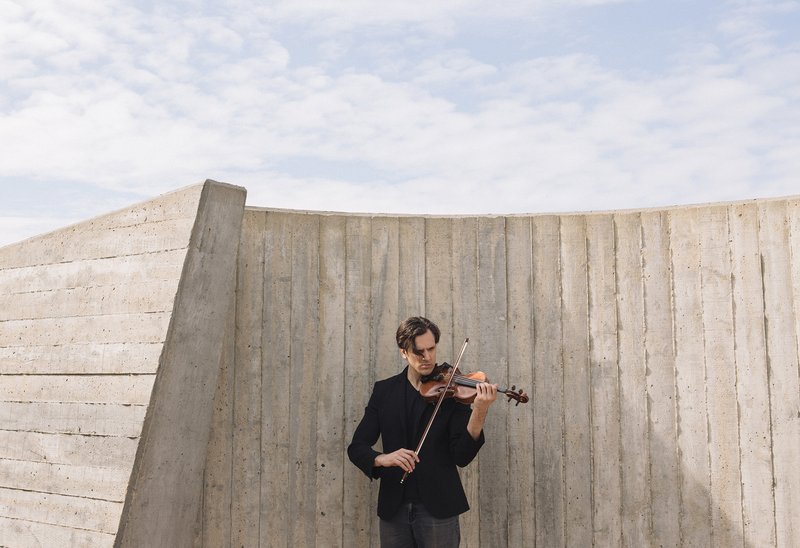 Christopher Tignor is an electronic musician, violinist, composer, and software engineer based in Brooklyn, New York. Among other accomplishments, Tignor currently holds two sponsorships: one from software developer Antares and one from German tuning fork manufacturer Wittner. These however are not partnerships that were forged because Tignor is a master user of Antares or Wittner products, but rather because he has taken the tools these companies produce and developed entirely new uses for them – Tignor has repurposed Antares' Auto-Tune plug-in to function as a sophisticated "choral" harmonizer which adds layers of harmonics to his live violin playing, and he uses his Wittner tuning forks like a kind of resonant drum stick, creating metallic bursts as he strikes them against hi-hats and triangles before touching the forks to his violin to create resonanting drones; again, entirely live. So yes, Christopher Tignor is an electronic musician, violinist, composer, and all that, but he also is someone with the ability to look beyond a tools' intended purpose and discover ways to make it bend to his artistic demands.
Though he's worked in a number of groups and ensembles over the years, Christopher Tignor released his first completely solo album, Along a Vanishing Plane, in late 2016 via the Western Vinyl label. A spacious, at times heartbreaking album that seamlessly melds together live violin and percussion with electro-acoustic tones and generous amounts of real-time processing, every piece of audio on Along a Vanishing Plane was recorded entirely live in the moment by Tignor himself wielding a rig that includes a kick drum, hi-hat, triangles, tuning forks, a pasture bell, and a violin, all of which are run through a custom Ableton setup that includes several devices Tignor has built himself (with names like Five Finger Discount, Trigger Finger, and Super Conductor). Amazingly, all this happens without Tignor ever having to press the play button – in fact, he makes a point of emphasizing that there are no prepared tracks or loops in his music. Instead, an intricate web of real-world sounds and gestures can trigger any number of processes and other sounds inside the performer's computer. As a result watching a Tignor composition come to life in real time is quite a sight to behold.
Having found a truly unique way to use Live and build his own devices to open up a world of instantaneous sounds, we reached out to Tignor in order to take a peek inside his creative mind. Fortunately, Christopher was more than willing to speak to us about his approach to composition, how he's built up his rig, and why he has dedicated so much of his creative energy to developing methods for live electronic music. Even better, he's also offered up some of his own Max for Live devices for Ableton users to try to fold into their own work.



What does playing live mean to you?
My stricter definition of what it means to be live is really about making the sonic expressions in the same room with the audience, which means not playing things that are fixed in time or pre-recorded tracks.
Like the sticker on your rig explains: "No tracks, no loops."
Yeah, "No tracks, no loops." I put that on there because I was so sick of sound engineers looking at my computer and asking, "All right, so does this have beats come out of it?" But it does speak in some ways to my ideology, however pedantic (but sometimes you need to be pedantic just to push the point home). For me the point is meaningful in the sense that there would be no way to do my music if it was fixed [in time]. It really is about what is required by the music, and the music tells me that it can't happen unless it is able to be performed and not include pre-recorded material. That's not true of all music, but it is of the music I make.
I've been doing this – making live electronic music that relies on things actually being truly performed and processed live – for many years, almost a couple of decades, so I've spent a lot of time asking the question, "What does it really mean to be a live electronic musician? What are the important qualities and what works and doesn't work?" And by "works and doesn't work," I mean that I am really interested in the phenomenological aspects of how an audience experiences music, which is based on a lot of time spent listening to the audience and understanding what works for them and getting their feedback.
"The wise electronic musician will ask themselves the question: What musical decisions are machines better at, and what musical decisions are humans better at?"
People have constantly and forever been coming up to me and saying, "I really appreciate the live aspect of what you are doing." They don't necessarily know the exact process, nor do they need to know, but they palpably can feel the connection between what I'm doing on stage and the sound that they are hearing. The problem with electronic music that everyone acknowledges is that it is "bodiless." I say this is a problem, but of course you can take any problem and make it a feature and do interesting things with it, but I think with most applications of electronic music – especially in the pop world – that actually isn't being done. They aren't embracing it. It's become just sort of a crutch and this bodiless character of "canned" sound starts to feel like karaoke. This is not news, right? But audiences are smart, and when the con is on, they know. Sure, people get used to it – we've been beating them down for years to get used to people playing tracks at them – but I think at the end of the day, I don't know if they really prefer that. People really love to go and be a part of the process of music making at a show.
These are just self-evident truths which people have been hand-waving for some time, and I think one of the reasons is because it is hard [to do truly live electronic music]. What I do takes a lot of work, it takes a lot of practice and there is a lot of risk – if shit goes wrong live, it goes wrong live. I have to put in a lot more time practicing than someone who can just make the track and then play it: I have to learn to actually play the instrument and so on, and that isn't for everyone, but audiences respond when you put in the work and when you are willing to take risks. With a live show, the fun of it is very much about the risk inherent in it being live, and when you try to take that, you do the thing that kills art which is to make there be less at stake. "What is at stake?" is an essential part of every artform, whether it's a performance, or even a novel. And when you try to mitigate risk, which is to say use the electronics solely as a practical means, you often just make there be less at stake, which [I think] is the wrong application.
And you think that most audiences on some level are aware of the fact, or at least care that there is less at stake?
Yes, of course. I'm not saying that directly in the frontal cortex that they need to understand – that's not the part of the brain we are trying to hit the most with music anyway – but they know, the brain stem knows. The wise electronic musician will ask themselves the question: What musical decisions are machines better at, and what musical decisions are humans better at? And then pick the right decisions to let each work together better. For example, to me it's not very musical to make the decision of [timing] with live looping (which I have done in other bands). If you're playing to a fixed beat and then trying to match where a loop starts and when that loop ends by yourself, then all you are doing is trying to get it as exact as possible, which a machine would likely be better at doing. There is certainly nuance you could make if you wanted to do live looping that was more free time, but if your goal is to sync up perfectly with a beat, then that is something you could automate to be done perfectly and a decision that would be made best by a piece of software. If you're trying to flex something in time a little bit though, that is a human decision and it is something that a machine will never be nearly as good at as a human, and so you should be making that sort of musical decision live in the moment.
When some people see the phrase "live electronic music," they may associate it with improvisation, which is not what you're talking about? How do you define the differences?
If you start thinking from the world of classical music, the question is immediately answered. Is there any improv in there? No. Are there any fixed tracks? No. Yet, everything happens live because there is a score. So this is a problem that has been solved for hundreds of years, and I'm not doing anything different [laughs]. [For my music,] I have a score which, in essence, is captured in these devices because the devices allow you to program a series of MIDI notes and then via triggers (often drum triggers) to scroll through these notes. So there is a score, like there would be for a Brahms quintet or something like that, but then I can control live the timing of how the piece moves from one note to the next. This is what allows me to keep playing the actual instruments [violin, tuning forks, triangles, hi-hat, kick drum] so that I never have to touch the computer during my set, except between songs or in order to cue up certain things. It's really that simple.
Also, like any classical score, there are choices I can make which live outside the data in the score, so it's not like there's an exact delineation between improv and score here, there is a continuum. Certainly my stuff is more on the score side, but there are variations between performances and the tempo is always completely up to me in that moment, and this music happens to be particularly free [in terms of timing] so I think there is a lot of choice in there. I think once you embrace the idea of a score, then it really opens up the possibilities of what you can do [in terms of live interpretation and performance].
Your recent album, Along a Vanishing Plane, was recorded live as a single performance. Why did you decide to record it that way?
Yeah, so this idea of everything being played live and everything we've been talking about so far, it just sort of hit me and the engineer I work with, Tyler Wood, that the music was telling us that it had a very strict idea about how it could exist: to be performed live. Early on when I was writing the songs I was already thinking on a practical level, "How am I even going to record this?" The songs were becoming so free in time that I didn't think I would be able to do overdubs, and eventually the music just told me what it needed, in terms of recording. My music is a live experience by nature, and so trying to respect that in the recording process was really key because it almost couldn't go down any other way. So we decided to go really hard into that concept and decided to do things like avoid a traditional recording studio environment, because studios are very good at doing music the other way, the post-Beatles-studio-as-an-instrument way. That's a beautiful thing, but after taking some time to think about it, we decided that really isn't what this music is about.
So we went into a beautiful space in Hudson, New York that sounded good and looked good. It was an abandoned former psych ward, and then a schoolhouse, and then it was bought by a couple of guys who use it to house their art studios. They let us go in there and we set up seven mics and three video cameras and recorded the whole thing; there were definitely some edits between big sections, but it was fun because it was very much back-to-basics, in terms of just recording a performance in that moment.
How did you develop your technique of using tuning forks as a musical instrument in your performances?
It probably started by accident. Musicians love tuning forks, they are just beautiful artifacts, and I was probably just playing around with one and accidentally touched my violin and then I had my [custom-made] Five Finger Discount device on and it made a melody from that sound. When that happened. I was like "Fuck! How can I work with this?" It ended up fitting and even defining early on a lot of my approach to my album. It also fit in with the idea of metal percussion, which I had landed on for the album.
Percussion is a beautiful thing in a lot of ways and it makes for great contrast next to long, lyrical violin playing, and I knew I wanted that contrast to exist. Using the tuning fork as a percussive striker (hitting the hi-hat and the triangles so there are these metal on metal tones) and then being able to appreciate the feel of metal in a different way, by having it resonate into a melody, seemed like a beautiful way to bridge the violin's lyrical and melodic qualities and the percussive striking of the metal. So it's literally me bridging the two: In my left hand I'm holding the violin, and then with my right hand I'm hitting the triangle or hi-hat with the tuning fork and then bringing that same tuning fork to meet the violin in the middle. Again, these sort of bodily/spatial/visual elements help the live experience to be fucking live.

Keep up with Christopher Tignor on his website.