Dirty Vegas
Paul Harris, Steve Smith and Ben Harris have been locked up in the Dirty Vegas studio near Tower Bridge in London for the last six months, finishing their hotly anticipated album One and preparing to kick off their 2004-2005 world tour. Emerging only for cheeky beer runs and DJ gigs, the boys of Dirty Vegas recently began rehearsing their live show and have just finished transferring their entire set to Live 4.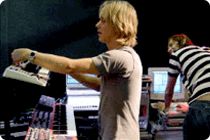 "Live 4 is incredibly flexible and absolutely stable," says DV keyboardist and programmer Paul Harris. "Live has totally blown us away. Within a week we were tweaking, triggering and twisting samples (via Evolution controllers), and creating even better arrangements than the record."
They're currently rehearsing in the studio for their first set of gigs, with Live 4 now playing an essential role in the Dirty Vegas setup.
Made famous by their blockbuster first single "Days Go By," Dirty Vegas plans to pick up where they left off. The buzz on their second album is building fast, as the first single from the album Walk Into The Sun is set to chart high and long.
"Live works perfectly for us! I'm using one PowerMac G4 running Live with an Evolution X-Session fader controller to control Ableton's Delays, EQs and other plug-ins. Then, I use a PowerBook (laptop) as a real-time sampler. What a great setup."
Dirty Vegas, Electronic Musicians and Remix Artists